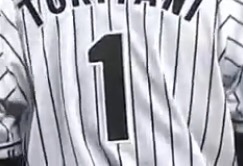 Toritani finally hit 2,000 hits.
Congratulations.
This year, Iwatched the Tigers Giants match at Koshien on 25th May.
I was deeply impressed when Toritani who got nosal bone fracture by a pitched ball on previous day appeared as a pinch hitter.
Every audience gave him a great cheer.
He got a ground out to third, but he hit the ball!
Didn't he feel fear?
He has a great courage. That's why he hit 2,000 hits as well.
Good luck going on, Toritani!